Featured Cards

Frequent Flyer Images
The world will never starve...
Cancelled
Upgrades
American Flag
Monday
Though we travel....
Frequent Flyer Funnies
Grocery Miles
Press "F" for Flyer
Off-Peak Awards
Competition for Upgrades
Space Awards
Free Award Flights
The Fine Print
Elite Security Check-Ins
Who Gets the Miles?
Wanting Upgrades
Only 274 More Nights...
The Greatest Program
No Blackouts???
How Many Miles is it to Stay Home?
From the Road
The glamorous nightlife.
Business as Usual
Lost
Blue skies
Traveler to Traveler
Leading Me By The Nose
Carry-on: the only way to fly.
Aisle and window
Got Miles?
Time is on my Side
Another City
Do Not Disturb

Back to the main menu...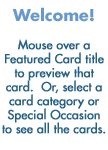 Choose an Occasion
Birthday
Kid Stuff
Holiday Season
Get Well
Missing You
Congratulations
Hello
Loving You
See You Soon