Featured Cards

Frequent Flyer Images
The journey is the reward.
I may be lost...
Midnight bag to Georgia
If time is money...?
From the Road
The end of the road
Sorry I missed your call...
Care to join me?
One more night...
Traveler to Traveler
Coming or going

Back to the main menu...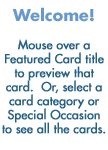 Choose an Occasion
Birthday
Kid Stuff
Holiday Season
Get Well
Missing You
Congratulations
Hello
Loving You
See You Soon